Do you need us to make a custom screen for your product branding or graphics?  We have all the screen making equipment needed: exposure systems, vacuum frames, coating machines, inspection stations, screen washout booths, stretching tables, drying cabinets, mesh and frames.  The descriptions below of our equipment may help you decide if we can meet your needs. Impro Graphics made over 3,000 pre burned screens for outside users last year.
NuArc Tri-Light Screen Exposure System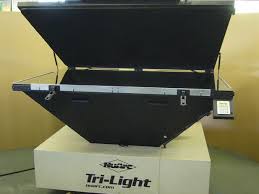 NuArc's Tri-Light is a shuttered-light Screen Exposure System. With its 132 x 152 cm (52" x 60") maximum screen frame size; fast, powerful multi-spectrum metalhalide UV screen exposure light source; and exceptional repeatability, Tri-Light is perfect for high-volume operations. NuArc's computerized and programmable integrator/controller ensures precise vacuum duration and screen exposure lamp output compensation.
NuArc Ultra-Plus Instant Start 6K Metal Halide Exposure Lamp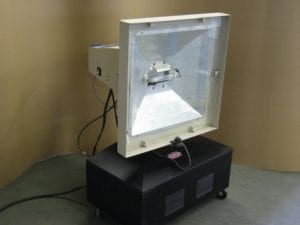 NuArc's 6K multi-spectrum metal-halide screen printing lamp provides instant-start, shutter-less operation for all freestanding and wall-mounted vacuum frames. This 6K  screen printing lamp provides uniform coverage on direct, capillary, and indirect emulsions. Each model features a precise controller/integrator with photo detector, push button controls, and LED readout. The shutter-free operation of screen printing lamps eliminates warm-up time and the need for mechanical screen exposure components. Height-adjustable floor stands and heavy-duty casters are standard.
American Polycop Vacuum Frame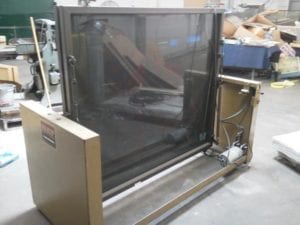 American Polycop Screen Exposure Vacuum Table, a free standing glass vacuum frame with rubber blanket – deep well blanket.  50″x 66″ i.d. frame, holds 4 frames at once, vacuum pump,  115v, Gast pump with gauge and air release. Tilting w/ locks. Vacuums fast, holds 30 psi. Castor base with a footprint of 60″ x 82″.
 
Grünig G-Coat 404 Coating Machine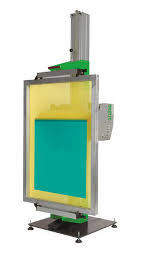 The one way to eliminate the human variable of the screen-coating process is to have an automated coating system. This controls and maintains the quality of our screens and adds to your facility's productivity and profitability. The Grünig G-COAT 404 is an automatic coating machine. It is an extremely compact bench-top model and boasts a durable, low maintenance construction. Therefore, coating is possible from one side, or both sides simultaneously using the coating trough. The coating process is extremely smooth thanks to special sliding guides and a toothed belt drive unit.
Custom Screen Inspection Station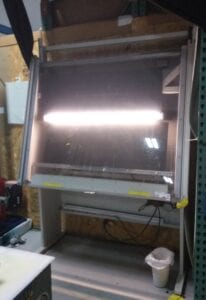 This is an optical inspection system for checking framed screensand the applied screen printing masks. Technical screen printing has become popular in modern production processes as a high resolution, fast and low cost printing and coating method. However, checking of the screens and the masks is crucial to the quality of the end products, since even very small defects can lead to serious printing defects. This allows us a fast, inexpensive quality control of the entire screen and the masked areas.
Hydro Engineering

Screen Washout Booth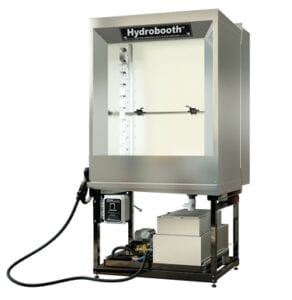 The Hydrobooth size is 40″ wide X 48″ high and 30″ deep. It is fully backlit with adjustable screen holding bar with clamps. This ensure stable screens during reclaim process. Sink pan is heavy gauge stainless steel and incorporates a stainless steel trough elevating screens out of pan bottom eliminating possible re-contamination from reclaim waste water. Booth sides and top are made of heavy gauge galvanized steel. Lid design sheds water to booth rear eliminating wastewater from dripping back onto freshly reclaimed screens.
HydroBlaster ECIN Model 1000 Washout System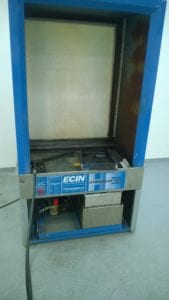 This is a complete reclaim system with back lighting, 1000 psi Industrial Pressure washer, Stainless Steel Sink and a Complete Water Filtration System. This is not a building supply store pressure washer, these are rugged & reliable professional grade units. It is fully backlit with easy-to-use adjustable screen holder, screen holding trough and stainless steel sink pan.  With this unit, we can effortless reclaim screens. Three position switch turns on lights, filtration system and Hydroblaster.  You get instant access because both the slide out tray has an integrated filter and the pump.
Majestech 50″ x 96″ Top Lit Screen Wash Booth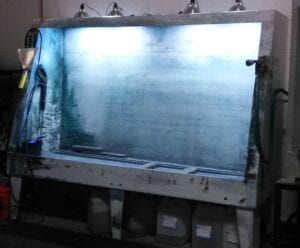 Screen washout booths are needed for cleaning, washing out and reclaiming our screens. Adding this washout booth to our shop allows for a much cleaner work area, and avoids ruining the walls with water over spray. Screen washout booths and filtration systems are an essential part of keeping your screen printing preparation and reclaiming room efficient and clean. This booth is 50″ tall x 96″ in height and over 24″ in depth. It can handle the largest screen that our printing equipment can handle.

Newman Roller Frame Stretching Table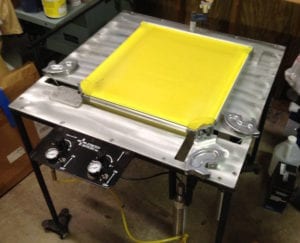 This Newman Roller Master stretching table features a flat and level table surface that, combined with the precise pneumatic actuation, enables rapid mesh tensioning and stabilization, along with more uniform screen tension.
The 4-way simultaneous stretching enabled by these devices, combined with a 3 minute holding stress, is equivalent to approximately 7 to 10 retensionings. Meanwhile, retensioning mesh with a Roller Master device after the first print run and reclaiming, combined with a 1 minute holding stress, is equivalent to approximately 3 to 4 retensionings.
Heated Screen Drying Cabinet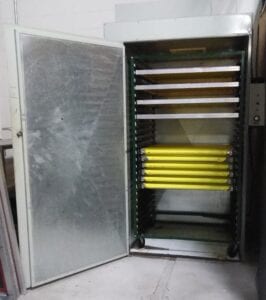 Screen drying cabinets are designed and built for quick and efficient drying of coated screens. Impro uses this heated screen drying cabinet after reclaiming, de-greasing, or coating screens with emulsion. Screens sit horizontal on a removable shelving rack. All the different kinds of screens we use can be placed and moved in the flat position with their printed side up, to guarantee the adhesive layer stays smooth. Its temp can be adjusted according to the heat resistance of screen mesh being used. This screen drying cabinet dries screens up to 5x faster, getting our screens out of the normal waiting period and into production faster.
Mesh and Frames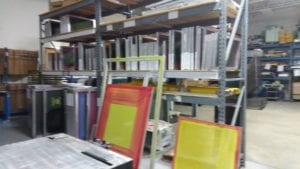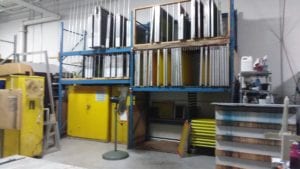 Impro Graphics has approximately 550 stretched frames on hand, ready to be burnt to your art. The sizes range from 18″ x 30″ to 44″ x 62″.  We offer screen making services to offset printers and others. For example, Impro Graphics made over 3,000 pre burned screens for outside users last year.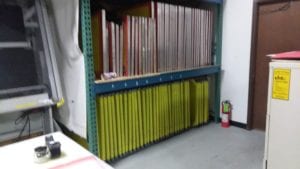 See a comprehensive list of our screen printing equipment here.