We offer display graphics printing, including counter and shelf displays, floor stands, shelf header displays mounted on fixtures or shelves, and point of purchase (POP) retail branding. We can even print display graphics in large or wide formats.
Counter/Shelf Displays
Make counter tops pop and work for your customer. Countertop displays offer an opportunity to make one more final impulse sale before the customer walks out those doors. They are also known as PDQ displays, a retail point-of-sale tray, bin or rack that is lightweight and easy to install. If they are well designed, you can sell merchandise while simultaneously advertising your brand.  (See details on restaurant table tents here.)

Floor Stands
Creating unique, attention-grabbing displays for high demand products and promotions is an exciting way to diversify a store's layout. Floor stand displays can have a small but effective footprint that allows retailers to display anything from small items to bulk products in an easy-to-access format. They can be custom-designed to meet many merchandising objectives for product marketers. Benefits? Because these displays are free standing, they are independent of shelf space. Because they are tall, they have a space-efficient footprint.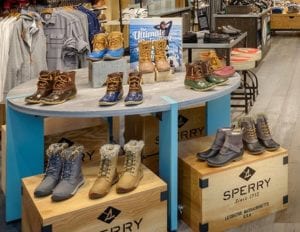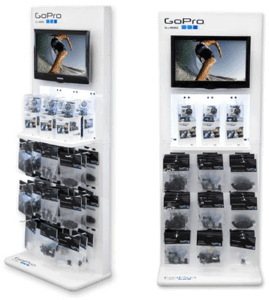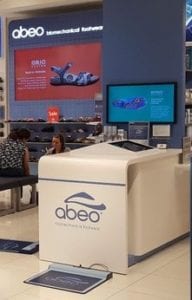 Shelf headers exemplify the principle that whatever the product, visible branding matters. Customers need to be able to see the item before they can be tempted into a purchase. Mounted on top of case stacks, displays, fixtures or shelves, header signs are positioned to be eye-catching and clearly visible. This type of graphic display is typically large and detailed to a greater degree than risers, channel strips, shelf talkers and aisle violators. Since header displays are typically placed at eye level or above, the idea is to be loud, proud and immediately enticing. Headers are best thought of as the marquee graphic that grabs attention from afar.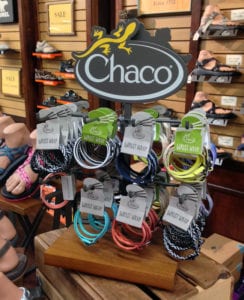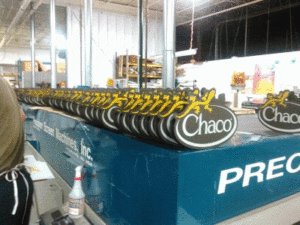 Branding
Point of purchase (POP) retail branding displays aim to educate the customer and promote the brand and/or product. These may include logo headers, logo bricks and storytelling graphics. Images are key here, so you'll want to use graphics that are eye-catching and consistent with your branding. Often these displays are incorporated into a larger display to help enhance the overall appearance.