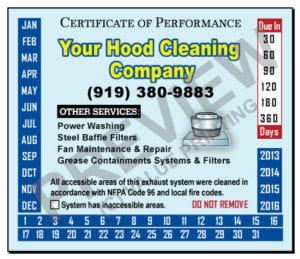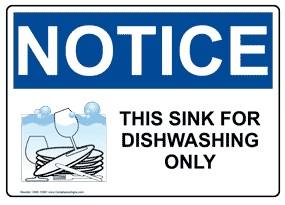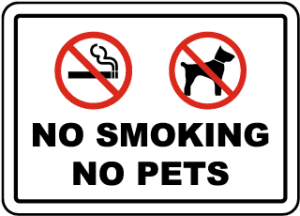 Equipment Inspection Decals
In the food service industry, sanitation and safety are extremely important. To keep equipment operators and end consumers safe, there are a variety of certifying and testing agencies who work to verify that restaurant equipment meet specific requirements. These decals and labels are to record the necessary equipment inspections requires by local and state health and safety codes. With a certification sticker, the employees who use any of the equipment feel secure in knowing they're using a meat slicer that won't deprive them of an appendage they'd like to keep around. Over time, kitchen exhaust hoods, ducts, and fans will collect grease which will restrict air flow, reducing overall efficiency of the system as well as become an extreme fire hazard. These types of equipment need to be periodically inspected and the results and dates recorded on the equipment.
Food Preparation/Kitchen Safety Decals
Make sure everyone in the restaurant, cafeteria, or lunch room is keeping everything clean and sanitary with the help of effective food safety signs. In close quarters, it's even more important to prevent contamination to keep employees and customers safe. Hand washing, wearing hairnets and gloves, cooking and storing food at proper temperatures, fire and heat safety procedures and food contamination are just a few of the hundreds issues you face if you operate a food prep area. Keep your employees and customers safe with the help of food prep and kitchen safety signs that clearly mark hazards and food prep rules.
No Smoking Decals
No Smoking signs and decals help you get into compliance with your state, property or company no smoking laws. They help make it crystal clear to everyone where smoking is not permitted. The Smoke-free Illinois Act protects the public by prohibiting smoking in public places and within 15 feet of any entrance, exit, windows that open, or ventilation intake of a public place. Public places include, but are not limited to, restaurants, bars, bowling alleys, private clubs and gaming facilities.
No Pets Allowed/Service Dogs Only Decals
Under the Americans with Disabilities Act (ADA), privately owned businesses that serve the public, such as restaurants, hotels, retail stores, taxicabs, theaters, concert halls, and sports facilities, are prohibited from discriminating against individuals with disabilities.The ADA requires these businesses to allow people with disabilities to bring their service dogs onto business premises in whatever areas customers are generally allowed.