Specialty Inks gives the solution when being used by just the average printer is not an option. These specialty inks allow any offset printer  the option to offer the customer more than a flat print. Creating great art and amazing prints is only limited to printer and artistic imaginations.
Glitter
Screen pr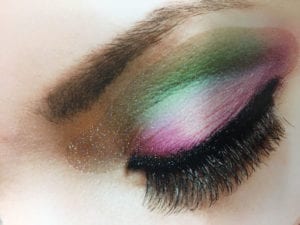 Printing glitter inks can add unique value for consumers and customers who want special effects that sparkle and shine. Glitter is available for screen printing in many different sizes of flake measured in hex, or the size across the hexagonal flake in fractions of an inch. The size you use will be determined by the design you want to print. A larger flake will catch more light and create a shinier effect, while it will require a coarser mesh screen for the flakes to pass through. This makes larger flakes unsuitable for finer details. A smaller flake won't catch as much light and the glitter effect won't be as vibrant, but you can print it through a higher mesh count screen to capture smaller details.
Pearlescent
Pearlescent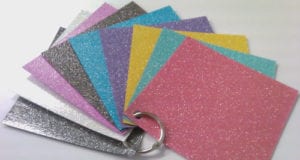 ent printing creates a colorful and vibrant shimmering pearl-like effect on any printed piece, including gift cards, credit cards, packaging, retail POP displays, book covers, marketing collateral, and more. The pearlescent effect is created from water based, solvent based or UV coating pigments structured with transparent layers. Their different refractive indices and optical wavelengths amplify or absorb light depending on their thickness, creating a pearl-like effect. Using a discrete particle of a shimmering pearlized compound with the right base, we can print pearlescent in many different hues for your project. Just ask us for a sample. The possibilities are truly infinite.
Metallic special effects printing is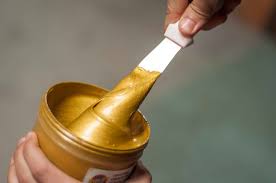 similar to pearlescent but is applied to metallic colors like silver, gold and bronze. Recent innovations in UV coating technology have resulted in breakthrough improvements in their brilliance that rivals hot and cold foil stamping, foil lamination and use of metalized papers. We are also able to print metallics in a solvent or water based vehicle when appropriate. Metallics can also be applied to precise areas with spot printing, which reduces waste and saves time. Metallic inks, especially silver, are completely opaque to transmission of light, making them ideal for many screen-printing applications, such as selective blocking of light transmission
We can use sp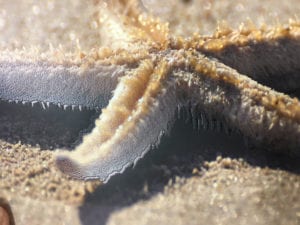 ecialty UV inks/coatings to print graphics with a leather, wood, sand, grit, or other custom textures. Printing a soft touch varnish on labels, packaging, cards or any other products is one of the special effects that adds value to the final product. Soft touch varnish is not only a great tool for emotional marketing but also a way of distinguishing a brand or a product from the competition. Adding soft touch varnish on Champagne, wine labels or luxury packaging personalizes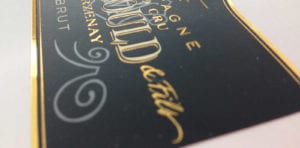 and underlines a brand while enhancing the consumer experience.
Scratch-off
S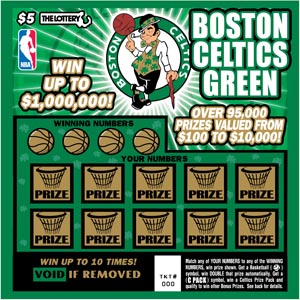 cratch off panels are used on game and lottery cards. The scratch-off ink prints over the prize or winning numbers. Typically the cards are offset printed with a clear varnish covering the area to be printed with the scratch-off panel.
Impro excels at printing high-quality, high-opacity scratch-off panels for the offset printing industry. Highlights include:
Very low spoilage
Security Guaranteed
Quick turnaround
Comes in silver and gold
Can be over-printed with other colors
Glow In The Dark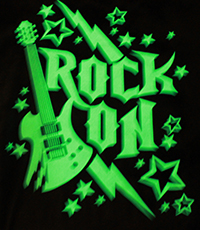 Glow in the Dark ink creates a glowing effect in the dark when charged by light. Special chemicals called phosphors are mixed into the ink causing it to absorb energy and re-emit it as visible light. They are best when used on white or light-colored substrates. The glow-in-the-dark ink is light sensitive and must be exposed to or "charged" under normal light before being used in the dark.  Typical glow-in-the-dark screen printing ink comes in whitish or clear formulas that produce a green glow, but many other color options are also available.
UV Flood/Spot Coatings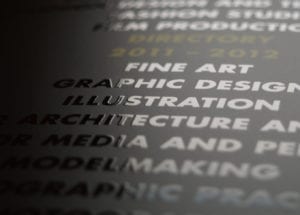 UV coating, or ultraviolet coating, is a very glossy, shiny liquid coating applied to a printed paper surface and cured on a printing press or special machine using ultraviolet light. The coating hardens, or cures when it is exposed to the ultra violet radiation.UV Coating is a transparent liquid coating for highlighting or protecting printed materials. It is most often used for book covers, the point of purchase displays and advertising material. Both Matte and Gloss UV spot and flood coatings are available.