Post card mailer for original 1947 company
My name is Richard Saetre, and my father started a screen printing company called Screenprint Products in 1947 right after he returned from his tour in the Philippines in WW2 as an engineer.  He specialized in printing on plastic, which was rather new at this time.  His expertise was in printing vinyl baby mattresses.  This was before the use of screen printing presses so everything was printed with a hand squeegee. 
Baby mattresses are rather large, which required my father to hire very tall individuals with arms that had enough reach to print these large sheets of plastic.  It must have been a sight to see my father at 5' 8" with his crew of 6' 4" or taller. 
My brother and I bought the business in about 1972 and sold it in 1996. We continued working for the company as employees, but after about a year, I decided to move on.  I was brought up in my dad's business. My memories include my dad's giant employees swinging me in the air over their heads.  I had screen printing in my blood.
A nice thing about screen printing is that you can print on just about anything.  It might not always be the fastest way to print, but with the inks available and Rube Goldberg fixturing, nothing is impossible.
Impro Graphics, My Own Business
I needed something to keep me busy, so I decided to start another screen printing business called Impro International, also called Impro Graphics, as a hobby.  I set up a little office in my basement with a phone and a desk.  My son Brian Saetre set up a web page for Impro when he was a freshman in high school. We thought bumper stickers and decals would be nice easy products to manufacture and sell. 
Little did we know that we were about the first company on the internet that advertised these products.  Request for quotations soon overwhelmed us.  I quickly bought a small screen printing press and someone gave me a hand operated "guillotine" cutting machine from the late 1800's.  A friend of mine owned a helicopter charter service and let me set up my press in his hanger.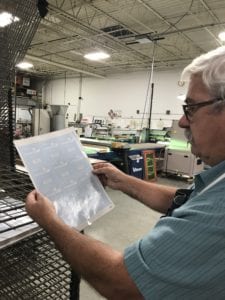 This only lasted a few months until I found a small 1500 sq. ft. space to set up my operation.  We needed a lot of artwork to produce bumper stickers and decals, so I hired Brian and one of his friends to work after school while I ran the press and did the cutting. (Brian now owns ArtworkIQ, which specializes in logo vectorization, black and white line art, logo design from reference and vector portraits.)
Impro's Growth
It was not long before I took a larger 3500 sq. ft. space in the same building and then an additional 3500 sq. ft.  I bought more presses, set up screen making and hired a few employees. 
We started to receive some pretty large orders.  A couple of noteworthy ones were for NATO and Menards Racing team. Impro made labels that went on all the NATO troop's badges.  I would ship FedEx to Croatia and FedEx would check and see if they were shooting before accepting the packages.  The Menards bumper stickers were an order for almost a million bumper stickers that we printed and then cut on my old hand cutter.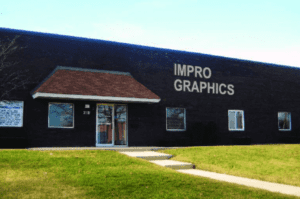 We are now in an almost 14,000 sq. ft. building. The type of business we do changes very quickly.  With the new digital printing technology, many of the types of printing we used to do has gone away.  Four color process work is seldom screen printed now.  However, we always seem to be able to replace work that has disappeared.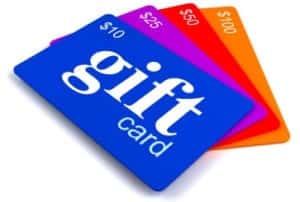 Our Niche and Expertise
Impro does a lot of work for companies that make credit and gift cards. We flood coat, metallic, pearlescent and opaque white on sheets of rigid vinyl that are then sent off to be offset printed, laminated and cut into credit and gift cards. 
Our team coats enough sheets of rigid vinyl every month to make 5 to 10 million cards.  We still continue to print scratch off panels for game cards, gloss and matte spot coatings for the offset industry for brochures, book covers and advertisements. Our company also prints acrylic and other types of plastics for point-of-purchase, meat case dividers for grocery stores and unusual items such coolers and metal arcade game panels.
We have developed a method of making free floating letters and designs with a raised or domed look to them which have become very popular with the liquor industry. Learn about all our printing capabilities.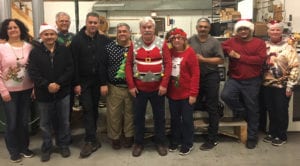 We like the challenge of the unusual. It keeps things fun and interesting.
Richard Saetre
Owner – Impro Graphics
You Might Also Like…
You might also be interested these pages:
— About and Why Impro Graphics