Much of the printing industry's growth is due to the introduction and increased use of new substrates coupled to the development of compatible ink systems. Most new substrate sheets perform superbly in a wide range of graphics applications and can be used to create weather-resistant signs, displays, or P-O-P materials. Their smooth surface is ideal for all types of graphics, and they require little surface preparation or treatment. We print on poly-carbonate (PC) and polyvinyl chloride (PVC), both of which are commonly used for signage and graphics.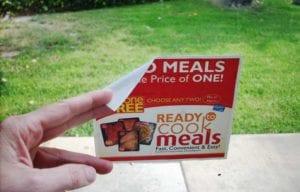 Static Cling Decals
Static Cling Decals are custom die-cut to any shape you need and printed full color. Our Static Cling Decals do not use adhesive, so they can be removed and re-used again and again, and won't leave a mess on your windows, mirrors or glass surface, as well as plastic and baked enamel finishes. Perfect for store front windows, car windows, mirrors and more.  Static Cling Decals are made with a durable vinyl material that uses static electricity to stay in place. Can be printed on white or clear material.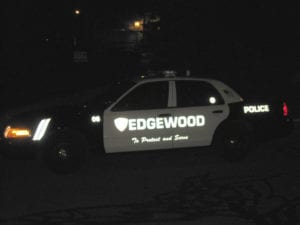 Reflective Decals
Reflective decals are screen printed with spot colors or digitally printed in full color on a 5 mil engineer grade reflective vinyl material. Reflective Vinyl works by bouncing light back to the original source. If you need signage more visible at night, reflective decals are a great option. With full-color reflective decals, your message is visible during the day as well as after the sun goes down. Reflective decals can be displayed on vehicles, in your storefront windows, on entrance and exit doors, and even on yard signage. When a focused light source (i.e. headlights) hits the surface of your reflective decals, your message will be illuminated. In daylight, the colors look like normal vinyl decals. Under flashlights or car headlights, the decals will look like they are lit up from within.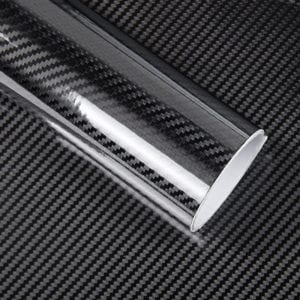 Carbon Fiber Decals
Carbon Fiber Vinyl is an advanced textured film that looks and feels like woven carbon fiber. This is a indoor/outdoor signage material has up to a 5 year outdoor durability. It is perfect for Trade show POP displays, banners, vehicle graphics & window signage. Add a high-tech feel to your project with Silhouette Carbon Fiber Vinyl. This specialty vinyl is perfect for creating custom decals and designs. Carbon Fiber Vinyl is a dual cast film specifically designed for vehicle application to provide dimensional stability and durability without the need for an over laminate. The pressure-activated adhesive allows you to slide and reposition the film over the surface of the vehicle until you apply firm pressure.
Available in mirror gold and silver and printed with hard wearing UV inks, our metallic stickers are great for branding, decoration, and product customization. Available in brushed silver and brushed gold finishes and printed with tough UV inks these stickers are virtually indestructible. Metallic vinyl is mixed with metal flakes. These metal flakes give the vinyl its reflectivity. Metallic vinyl lettering looks great for many situations where you want something that looks a little bit nicer than ordinary vinyl lettering. Gold and silver are two colors that are traditionally available in metallic.
Holographic Decals
Holographic vinyl comes in a considerable variety of metalized adhesive backed films. Most of these offer stunning visual effects including iridescent rainbow finishes, surface textures, and of course, the holographic diffraction for which the category is named. If you are really wanting to make a big impact, choosing the holographic style is a great way to make something totally unique. Holographics are a family of vinyl that includes engine turn, diffraction, mosaic, multi-lens, glitter chrome, oil slick, and metal flake. Choosing one of these styles gives you a look you simply can't achieve with printed or standard solid color vinyls.

Glitter Decals
This pressure sensitive sticker film can go on just about any smooth, dry surface.  Put your glitter designs onto canvas, cups, tables, trays, mirrors, mailboxes, vases, cell phones, laptops, lamp shades, walls, wine bottles and glasses, etc. Self Adhesive Glitter Vinyl, peel and stick. Glitter Sign Vinyl. Glitter vinyl for signs and decoration. Glitter Adhesive vinyl. Many beautiful colors. Glitter vinyl's darker colors will fade over time on outside decals.  This time depends on what part of the country and how much sun you receive. Please take this into consideration on what you tell your customers on the car and window decals. Glitter vinyl works  great on Laptops, Glass ware, wall decorations and cell phones with no problems or fading. This is a high glitter finish self adhesive vinyl, perfect for use on smooth non-textured solid surfaces such as metal, glass, windows, ceramic, walls, laptops, and more. Manufactured in the United States, this permanent glitter vinyl is a high quality vinyl with consistent results.
Prismatic Decals
Prismatic labels use hologram-like material that is used to brand products to keep them safe from forgery. The demand for hologram products has been increasing year after year and its application is found in almost all industrial sectors. You can find Holograms are used by software manufacturers, passport producers, car manufacturers, creators of brand name products, credit card companies, CD producers telephone card distributors, etc. Most Prismatic labels are adhered to products to save them from being imitated or as proof of being unused or unopened. The particulars present on the hologram are created using coherent light resources like laser beams and electric beams. Holographic stickers and labels are designed and developed by a variant method of coating, finishing, and embossing. This is the reason Prismatic labels are harder to copy. The prismatic effects on the holographic labels appear very attractive and give a glittering rainbow reflection.
Perforated Window Decals
Perforated vinyl window decals appear opaque from the outside, but allow visibility from the inside. With specially-designed micro-punctures in the film, your decals achieve a unique one-way appearance that really makes an impact. These perforated adhesive backed products create great window graphics and window signs that don't block the view from the inside of the window. Available with 50%, 30% or 20% perforation, they are perfect for business or vehicle window signs where you need to be able to see out from the inside. These materials are also great for reducing the heat from the sun through the glass, with the materials with less perforations blocking the most heat.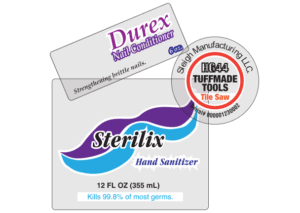 Clear Decals
Sometimes clear material is exactly what your design needs. No white border. No background color. Just your design on a clear sticker. Our method of printing clear decals uses 2 layers of ink. There is one layer for a white ink base layer, then another layer with the CMYK inks. This provides color on clear decals that is more opaque than standard printers. Since the colors are printed on top of white ink, your design will still be nice and vibrant. With clear window decals, your design is printed onto a sheet of transparent vinyl, allowing you to use a wide variety of colors, gradients, etc. Our clear stickers are printed on premium weatherproof vinyl that can be cut to any shape or size, and they are scratch resistant which makes these perfect for product labels, car windows and business promotions.
Polycarbonate Decals
Polycarbonate decals offer a "high end" look that is both durable and decorative.  Some advantages of using polycarbonate decals are that Polycarbonate decals are subsurface (2nd Surface) printed for built in graphics protection, they are flexible, They can be used with full or partial adhesive application after printing, and are available in thicknesses from .005" to .030". Your have a choice of material surfaces from clear to textured. Application of partial adhesives allow for a non-stick area such as a window or button. One of the many advantages of a Polycarbonate decal is that the polycarbonate substrate comes with no adhesive. We can use a wide variety of customized transfer adhesives to meet the specific needs of your application. A variety of adhesives and adhesive thicknesses are available in combination with polycarbonate to custom manufacture graphic overlays, decals, nameplates, faceplates, control panels, and labels. We also offer a range of textures for polycarbonate substrates, including velvet Lexan labels and overlays.

Over-Laminated Decals
Ours are the most durable in the industry and  can be customized-down to the shape, image and quantity! Our stickers work well indoors and outdoors, with a heavy-duty waterproof clear over-laminate that adds 3-5 years of extended outdoor protection. Over laminate film protects your graphics from abrasion, chemicals, and UV exposure. Screen printing leaves the thickest coating of UV cured inks and is outdoor durable 3 to 5 years without being laminated. But, there are many sticker printing methods that need a UV Laminate to make the sticker or decal outdoor durable in the first place. Many print methods, even with over laminates, may still not be as vibrant and outdoor durable as a screen printed sticker without a laminate.