Quality signage is an easy and effective way to drive foot traffic and communicate with your customers when designing your store. Signs are expanding communication mediums that respond to our mobile lifestyles. Regardless of the type of sign used, your signage must be appealing to your customers and the message must be readable.
Hanging Banners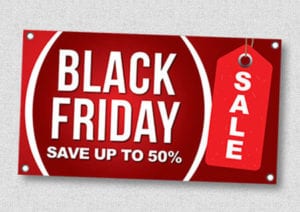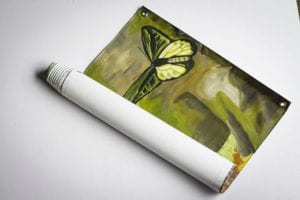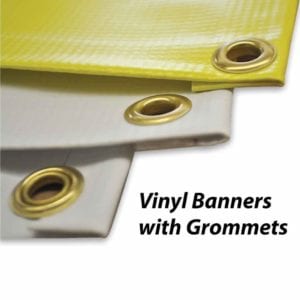 If you want a heavy-duty banner that can withstand the wear and tear of everyday use, we'll custom make it for you. Whether it's a promotional piece for a store or a safety sign for a construction site, you'll never have to worry about rips or tears. These signs are witnessed in just about every town and city hanging across a store front and quite often, they'll be seen advertising a community event.
13 oz or 18 oz vinyl banners allow the option of adding a welded hem to the edges of your banner. This gives the banner a smooth finished edge. Welded hem is only available on 13 oz vinyl banners. When hanging or attaching your banner during installation you may desire grommets on your banner. Grommets are optional and available on both 13 and 18 oz vinyl banners. Grommets can be added every 12-18 inches, every 18-24 inches, every 2-3 feet, or in the 4 corners. The best part is that unlike other online banner manufacturers, these basic finishing options are included at no charge. Other banner shops lure people in with a cheap price only to turn around and charge extra for grommets
If you'd like your design to be printed on both sides of your banner this option is available on our all our custom vinyl banners. All our custom banners are made with a hem along all the outside edges of your banner. This gives the banner a smooth finished edge.
Pull Up Banners for Retractable Stands

Our roll up banners allow you to advertise to your target audience and make for an attention-grabbing marketing solution, especially when paired with one of the many available  pop up stands.
A staple for trade show exhibitors. Our pull up banners are designed to be simple, but stylish. They're perfect for exhibiting at trade shows, advertising inside businesses, and even as signage for outdoor fairs. No matter which roll up banner stand you choose to go along with your custom printed roll up graphic, quick set-up is guaranteed. Just pull the banner from the spring-loaded stand and attach it to the to the support pole. It is just as quick to tear down. Again just remove the support pole and allow the roll up banner to reel into the base. You can receive this ready-to-go hardware with any of your custom print(s) already installed.
Trade Show Banners


Trade show backdrop banners need to be different from your typical vinyl banner. Since people go right up to them, they need to be highest quality, and they need to be printed on a matte finish vinyl so you don't have glare trouble in trade show lighting. They need bright graphics and sharp text to attract people to your booth. You can also display any trade show specials that you are offering for customers or prospects. You can also use banners to display your corporate logo and culture. You can feature your company's products or services so everyone can see how great your company is.
These banners are large, informing passersby about your business from a distance. Each trade show backdrop comes with custom printing for a fully personalized graphic that tells the world what you're about. Custom printed trade show backdrops are excellent because companies can feature any graphic, whether it's just a logo or a collage of information for attendees. We will use your vibrant full color images to make a memorable mark that attendees won't forget! Let us make you a trade show backdrop that will give your presentation an edge at the next expo.
Banners are not a medium for art, they are a medium for advertising. Therefore, they should be attention-grabbing but not too abstract. We can help you make your designs attractive but make sure that you make it clear who you are and what your business does. We'll help you choose a bold, easy-to-read typeface and attractive colors. We'll help you design it so that any branding or catchphrases that are meant to draw anyone in are large enough to be seen from at least 20 feet away.
The vinyl that we print trade show banners on is a matte finish material that accepts ink beautifully. It is nylon reinforced for strength. We print full color images on vinyl. Our printing is in high resolution for crisp colors and text.
Rigid Posters/Wall Signs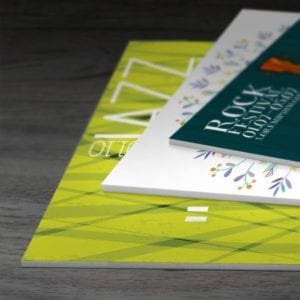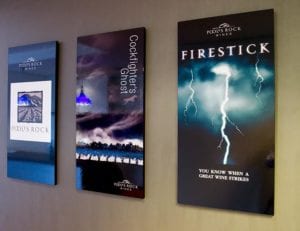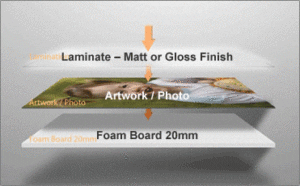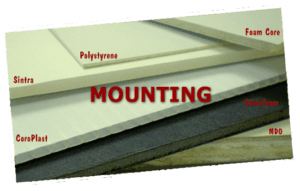 Whether you're trying to message customers, employees or guests at an event, personalized posters are a great way to stand out. Thousands of specialized templates mean that you can create a professional-looking design in seconds. And a huge variety of sizes lets you take advantage of almost any open space. If you are eyeing for professional-looking and long lasting materials for your promotional campaigns, mounted posters are what you need. These posters can be put in strategic spots to reach a wider audience. At the same time, mounted posters are sturdier than your regular posters and can last for a very long time. Create designs that showcase your brand and have them printed in premium quality to achieve better results.
We print your image and then mount it onto the board you choose, so you benefit from both sharp quality print and the rigid board of your choice. 
Types of rigid substrates available
Foam board is a lightweight non-flexible board constructed from polystyrene foam covered with thick paper on both sides, to be used for art projects, framing, and presentations, for indoor use only.
Ultra board is a type of foam board which has a rigid finish and will not bend over time, the standard foam board we use is white and 3/16" thick and is also available in black and 1/2" thick for an additional cost.
Sintra is a durable PVC board a bit flexible, great for indoor and outdoor use. We use standard white 1/8" thick Sintra board, also available 1/4" and 1/2" thick. Other colors, Black, Gray, Blue, Yellow, Green, Red, Orange.
Polystyrene is one of the most widely used plastics. It is a rigid sheet of plastic which comes in various thicknesses. Polystyrene is an economical and highly effective product for, semi-permanent, temporary or disposable use. It is durable, low moisture resistance, has good impact strength.
Gatorfoam is a lightweight, rigid display board with a polystyrene core and white surface. The core is very dense and firm and the surface is a wood fiber veneer laminate impregnated with resin for water resistance. Choose Gatorfoam for your most durable displays, signage, and mounting surface.
Polyethylene is the most popular plastic in the world. This is the polymer that makes grocery bags, shampoo bottles, children's toys, and even bullet proof vests. Chemical resistance properties of Polyethylene (PE) are excellent, covering a wide range of chemicals. It has good weather-ability. Life expectancy in outside conditions of over 25 years are attainable. Another benefit is that it is quite flexible in low temperatures and has high impact strength at low temperature.

Polyvinyl chloride is one of the most versatile thermoplastics being used today. Polyvinyl chloride (PVC) sheet panels provide excellent toughness and good impact resistance. Processed with a weather-resistant formula, this product is moisture and mold-resistant because it does not absorb water. PVC sheets are long-lasting and hold its color well year after year. It is a material with excellent chemical resistance and dielectric properties, good tensile, flexural and mechanical strength, low moisture absorption, exceptional dimensional stability and good flammability characteristics.

Acrylic is a highly versatile plastic that is easily fabricated and offers superior clarity and durability in a range of applications. acrylic sheets are manufactured with a durable abrasion-resistant coating and is ideal for menu boards, point of purchase displays, signage and machine guards. Acrylic sheets are available in a range of colors, thicknesses, patterns and textures.
Polycarbonate is similar to acrylic, however is stronger and usable over a greater temperature range. Polycarbonate (PC) is an extremely durable material with high impact-resistance, but low scratch resistance. It is easily fabricated, cut, molded, and thermoformed. Because of these properties, polycarbonate panels find many different applications