Try us for your bar, hotel and restaurant printing, including table tents, menu boards, floor graphics and telephone face plates.
Table Tents
Table tents are the perfect way to promote a product, service or event at restaurants, bars, hotels and more. Table tent design is integral to achieving a successful return on investment, but first you have to attract the audience's attention and then motivate a purchase. You want your table tents to excite the eyes and speak to your audience's joys and passions. Just one glance at your table tents should be enough to inspire a closer look, so make sure your headlines are big and your images bigger. The bottom line: You want your audience to feel as though their lives will be enhanced by following through on your offer.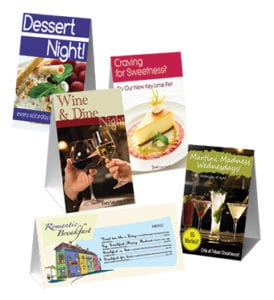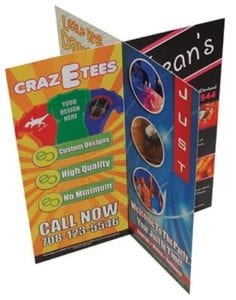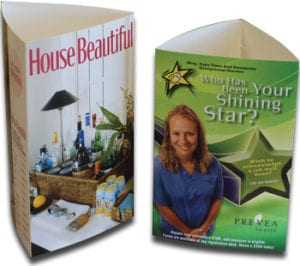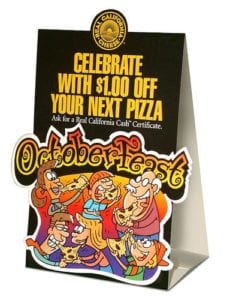 Create eye-catching, engaging menu boards that are sure to capture your customers' attention. Our state of the facility includes wide format printers of up to 60″ width, and a complete finishing shop for laminating and mounting your menu on board. We can produce poster size menu boards on styrene, Sintra, foam-core, gator-board, coroplast, and 50 point board. We can also print directly on board with UV curable inks that are waterproof, light stable, and durable.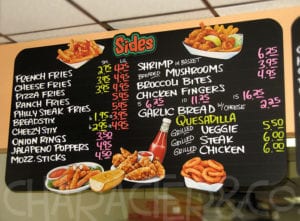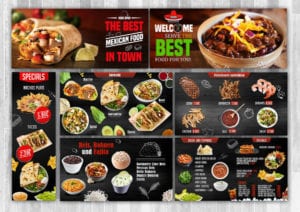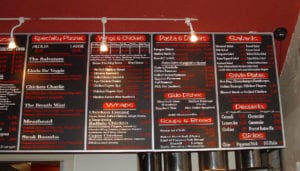 Floor Stand Graphic Inserts
Floor standing sign holders are some of the most important sign fixtures in any store or retail environment. They are also some of the easiest types of displays to change the graphics. Most of them are slot loading frames where the poster just inserts from the top or side. We produce beautifully printed digital graphic inserts for your sign stand. Your graphics will be digitally printed in ultra high resolution using eco-friendly, UV fade-resistant inks directly onto either commercial grade .030 Polystyrene or 3 ml rigid PVC plastic. Floor stands not included. We print new custom panels to fit your existing stand.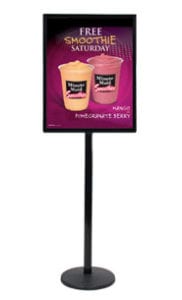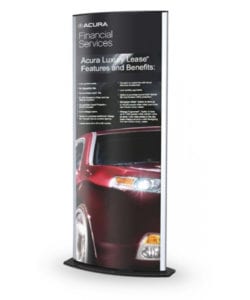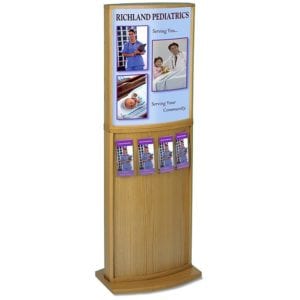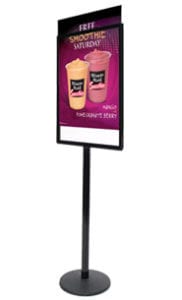 Floor Graphics
Floor graphics are available for either short term or long term use. They are adhesive-backed vinyl, printed in full color on one side of 3 mil adhesive with a luster finish. These graphics withstand wear from heavy foot traffic while remaining easily removable. Depending on use and foot traffic, floor graphics are coated either 3 mil or 8 mil. They withstand wear from heavy foot traffic while remaining easily removable. Our floor graphics are UL-approved and slip resistant. They can be scrubbed, cleaned, and waxed during routine maintenance.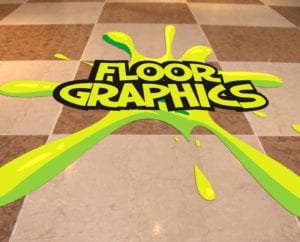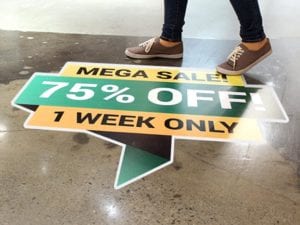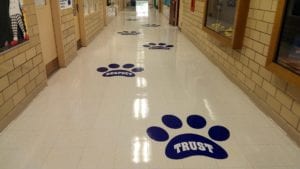 Telephone Face Plates
Choose from a wide variety of custom or replacement telephone face plate covers to fit most major brands and models of phones. If possible, please provide sample of current face plate to ensure proper match. The images are printed in reverse onto the back of the poly-carbonate material. Then a background color is silk screened over the printed images. After all the printing, a pressure sensitive adhesive is applied to the back of the poly-carbonate. Next the part is die cut to shape. Poly-carbonate labels are available in a velvet or clear finish. The more common choice is the velvet finish because hides surface scratches.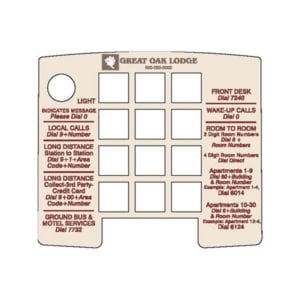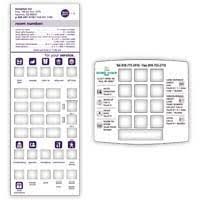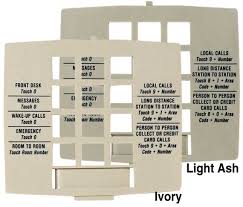 Learn how to keep the queue moving to satisfy customer needs using specific marketing tools like promotional signs or branded menus.