Do you need access to one of our laminators to finalize branding or graphics?  Have you overflow work for laminating equipment that we might run for you?  The descriptions below of our equipment may help you decide if we can meet your needs.
GBC Falcon 60 Laminator
The GBC Fal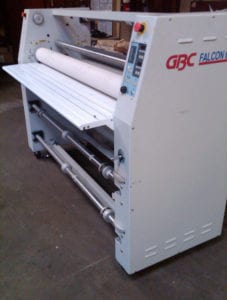 con 60 is the ideal dual roller heated finishing system for 60″ inkjet prints. It laminates, encapsulates or mounts, operates from either direction, and uses thermal or pressure-sensitive films. Because each side has its own adjustable nip rollers, PSA and mounting jobs can be run immediately following thermal jobs without waiting for roller cool down. Bi-directional, thermal or pressure sensitive applications up to 62″. New digital accelerator foot switch provides hands-free variable speed control from either direction.
Wesco Model F-30 Industrial Laminator
The Wesco Model F-30 is for smaller width jobs, ease of setup and confinement of size make for faster production times and quick turnaround on a variety of laminating needs. 3″ diameter rollers are adjustable to handle thick and thin substrates OSHA Safety package with clear acrylic NIP GUARD. Variable DC Drive Motor with forward and reverse. Speed adjustable from 0-100 feet per minute.
Ledco HD-25 Workhorse Top and Bottom Laminator
The Led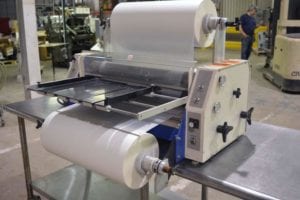 co HD-25 Workhorse is an ideal laminator for owners of smaller inkjet printers and other digital imaging devices, because it will mount or mount and laminate in a single pass on boards up to 1/2″ thick. The Ledco Workhorse roll laminator will handle different materials without setup changes. It can also run polypropylene film, laminate one-sided, and do cold lamination with the addition of a release liner takeup. The Ledco HD-25 laminator is unique first because of its toughness. It is also special because no other manufacturer offers a low cost autofeeder designed specifically for a 25″ commercial machine.
See a comprehensive list of our screen printing equipment here.