Do you need access to our drying equipment to finalize branding or graphics?  Have you overflow work requiring conveyor or in-line dryers that we might run for you?  The descriptions below of our equipment may help you decide if we can meet your needs.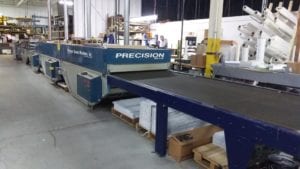 Quad (4) Precision Vortex 48″ In-line Dryers
This is a Precision Screen Machines Model#CDGF48 – conveyor dryer. It has a relatively new 48 inch wide belt w 8″ in feed and 4″ exit feed. Each heat chamber is 10 feet long (total tunnel length -40 feet) with a two foot infrared unit for an extra boost of heat.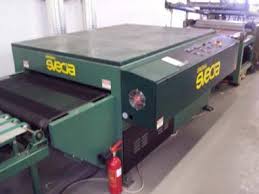 Svecia Hypron 2 + 2 UV 48″ Conveyor Dryer
High end UV conveyor dryer. Model: Hypron 2×2 50. New 48 inch wide conveyor belt. 4 foot long in-feed section. 7 foot 4 inch long heat chamber. 2 foot long out-feed section (in-feed and / or out-feed section can be lengthened or shortened if desired). 2 lamp unit. Each lamp is individually controllable. 100, 200, or 300 watt adjustable. Digital belt speed indicator.

M&R Vitran  38″ UV Dryer
Vitran are the finest UV cure systems available. M&R's patented dual-reflector technology delivers faster curing, lower energy costs, and cooler operation. Each system uses a secondary reflector—positioned at the top of the primary reflector—to capture the energy that normally bounces down onto the lamp.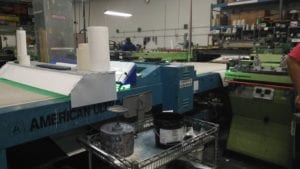 American Ultraviolet Company 38″ UV Conveyor Dryer
American Ultraviolet's exhaust/vacuum system, lamp evacuation airflow design and infrared filters insure low operating temperatures for heat-sensitive substrates.American Ultraviolet's variable-speed conveyor includes digital feet-per-minute indicator, uv resistant coated fiberglass conveyor belt, solid-state speed control and adjustable legs
See a comprehensive list of our screen printing equipment here.