The screen printing conveyor dryer is the critical final step. They are compact, powerful gas fired conveyor dryers designed to cure a wide variety of substrates. Gas dryers are heated using convection, a method of heat transfer using the manipulation of air molecules. Once the gas source is lit and reaches the user's preferred temperature, hot air is blown throughout the oven chamber. In gas dryers, ink is cured by the heating of the air within the oven.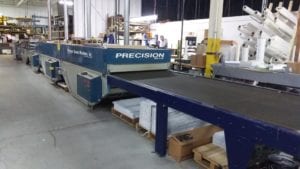 Quad (4) Precision Vortex 48″ In-line Dryers
This is a Precision Screen Machines Model#CDGF48 - conveyor dryer. It has a relatively new 48 inch wide belt w 8" in feed and 4" exit feed. Each heat chamber is 10 feet long (total tunnel length -40 feet) with a two foot infrared unit for an extra boost of heat.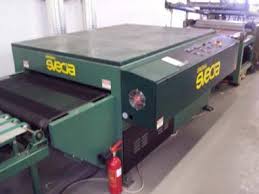 Svecia Hypron 2 + 2 UV 48" Conveyor Dryer
High end UV conveyor dryer. Model: Hypron 2x2 50. New 48 inch wide conveyor belt. 4 foot long in-feed section. 7 foot 4 inch long heat chamber. 2 foot long out-feed section (in-feed and / or out-feed section can be lengthened or shortened if desired). 2 lamp unit. Each lamp is individually controllable. 100, 200, or 300 watt adjustable. Digital belt speed indicator.

M&R Vitran  38" UV Dryer
Vitran are the finest UV cure systems available. M&R's patented dual-reflector technology delivers faster curing, lower energy costs, and cooler operation. Each system uses a secondary reflector—positioned at the top of the primary reflector—to capture the energy that normally bounces down onto the lamp.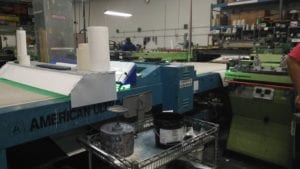 American Ultraviolet Company 38" UV Conveyor Dryer
American Ultraviolet's exhaust/vacuum system, lamp evacuation airflow design and infrared filters insure low operating temperatures for heat-sensitive substrates.American Ultraviolet's variable-speed conveyor includes digital feet-per-minute indicator, uv resistant coated fiberglass conveyor belt, solid-state speed control and adjustable legs