Do you need access our die cutting machines to finalize branding or graphics?  Have you overflow work for die cutters and cutting tables that we might run for you?  The description below of our equipment may help you decide if we can meet your needs.
Zund M-800 Digital Cutting Table




The design of the multi-functional cutter permits variable production workflows. Carefully thought-out material-handling options increase your production capacity many fold. With non-stop tandem operation, for example, loading, unloading and processing all occur at the same time.

Zund M-1600 Digital Cutting Table
The cutting head is controlled using a camera system for reading visual marks and a laser system for reference positions on unprinted media. The camera is also used for edge sensing, which is used to register blank sheets, including creasing corrugated sheets for PoS and packaging
Thomson Platen Die-cutter
Our Thom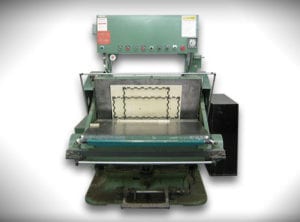 pson clamshell die cutter has the capacity for a 30 x 40 sheet size in-house and we can outsource to our local partners for larger sheet sizes. We have the ability to die cut stock ranging in caliper measurement from .010″ to .250″ in house.  Floor standing model. Electric clutch & brake. Selector switch for single or continuous operation. Open dwell timer. Variable run speed. Operator safety bar, counter.


Brausse PE202 Clamshell Die-cutter
Our Brausse 38″x28″ clamshell hand-feed die cutter + hot foil stamping + embossing. Max pressure 75 tons. Max speed 1800 sph. Safety guard and safety touch bar to meet North American Safety standards. Stable and dynamic cutting pressure. CSA approved electronic/electrical system. Electronic AC Inverter drive infinite speed control. Dwell timer at open & close position. Double micrometer infinite impression adjustment. Central Lubrication system. Special hardened die cutting plate.
See a comprehensive list of our screen printing equipment here.