Do you need access to our digital printers to add branding or graphics to your product?  Have you overflow digital printing work that we might run for you?  The descriptions below of our equipment may help you decide if we can meet your needs.
Roland Soljet XF 640
When it comes to productivity, the innovative Pro 4 XF-640 is in a class above all other large-format digital printers. Equipped with the ind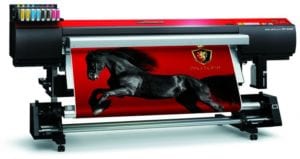 ustry's most advanced dual mirrored print heads, a reinforced chassis, redesigned take-up and pinch roller systems and wide-gamut Eco Sol MAX® 2 inks, this next generation inkjet is uniquely engineered and constructed to crank out crisp, vibrant graphics.  This enables us to do wide format graphics.
Epson SureColor S70670
Capable of producing astonishing print quality at print speeds up to 550 square feet per hour, the EPSON Sure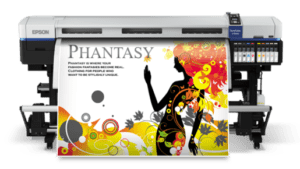 Color S70670 is unmatched in photographic signage output. This printer uses our most advanced imaging technology, including the exotic dual MicroPiezo® TFP® print head and 10-color solvent inks. The EPSON SureColor S70670 redefines photographic print quality for virtually any signage, vehicle graphics, or even fine art reproduction applications.  See a video of the SureColor Printer at work in our shop.
Epson SureColor T5270
The affordable Epson SureColor T5270 is one of the best wide-format printers, with top resolution, and image quality. Limited though it may be in si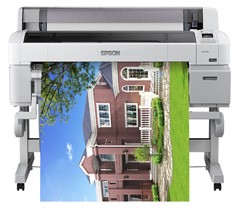 ze and speed, it packs a quality punch few can match. Among the smallest wide-format printers available, the T5270 takes up only 56- by 45- inches of floor space and is 30-inches tall. The T5270 makes do with five aqueous pigment-based inks. They include UltraChrome XD formulations for cyan, magenta and yellow as well as photo and matte blacks. With a top resolution of 1440-by-2880 dots per inch, it is the high-resolution king, with the ability to put down over 4 million dots per square inch. Its precise print heads can create lines as thin as 0.018mm with an accuracy of +/- 0.1 percent.
Epson Pro Stylus 7800

Inspired by our past-generation of photographic printing technology, our latest 24-inch Epson Stylus Pro 7800 professional wide-format printer incorporates forward-thinking designs with a breakthrough new 8-color ink technology, resulting in a final print of uncompromising quality. Epson UltraChrome K3™ ink technology represents a defining moment in the history of ink jet printing. Based on our newest-generation of pigment ink, Epson UltraChrome K3 ink incorporates eight new color pigments, including a new three-level black technology, dramatically raising the bar for professional color and black and white prints.
Flatbed Digital Print Sourcing
We are proud of our Flatbed Digital Printer Sourcing (a flatbed digital printer, flatbed printer or a flatbed UV printer).  Flatbed printers are capable of printing on a wide variety of materials. These include photographic paper, film, cloth, plastic, acrylic, glass, ceramic, metal, wood and leather. Flatbed digital printers usually use UV curable inks that are then exposed to strong UV-light to cure, or polymerize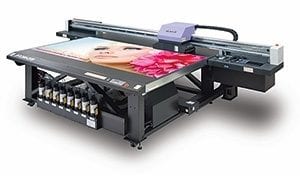 them. This process allows for printing on a wide variety of surfaces such as wood or canvas, carpet, tile, and even glass. The adjustable printing bed makes it possible to print on surfaces ranging in thickness from a sheet of paper often up to as much as several inches.
See a comprehensive list of our screen printing equipment here.